Best Album of 2007
What a year 2007 was for new albums of music. Lots and lots to choose from. I'm talking lots, from big names, to up and coming. Everything from Interpol [Our Love To Admire]; The New Pornographers [Challengers]; Spoon [Ga Ga Ga Ga Ga]; The Shins [Wincing The Night Away]; The Bravery [The Sun And The Moon]; LCD Soundsytem [Sound Of Silver]; to The Great Lakes Myth Society [Compass Rose Bouquet]; Brandi Carlile [The Story]; A Fine Frenzy [One Cell In The Sea]; Down The Line [For All You Break]; Lucy Kaplansky [Over The Hills]; Lucinda Williams [West]; and Norah Jones [Not Too Late]. There were albums from Lyle Lovett [It's Not Big It's Large]; Dean Martin [Forever Cool]; Steve Earle [Washington Square Serenade]; Paul McCartney [Memory Almost Full]; "The Boss" Bruce Springsteen [Magic]; and even Arlo Guthrie [In Times Like These]. Minne Driver had an album [Seastories]. Electric Six may have had the best new album
title
[I Shall Exterminate Everything Around Me That Restricts Me From Being The Master].
But alas in the end I had to choose one album and one album only. So I based it upon some simple criteria: which full album (sorry no EPs) was best in terms of both music and lyrics start to finish. In other words, which entire album of 2007 has been stuck on repeat in my mind and on my music players. You know the type of album. The album you start and pretty much have to listen to the whole thing. The album you find it hard to skip tracks on. Anyway, frankly this year that album was an obvious choice for me, but there were lots of other good albums as well including those mentioned above. I'll start with some honorable mentions:
Honorable Mentions
Tori Amos [American Girl Posse]
Emmylou Harris [Songbird]
Patty Griffin [Children Running Through]
Alison Krauss & Robert Plant [Raising Sand]
Feist [The Reminder]
And drum roll please...
Best Album of 2007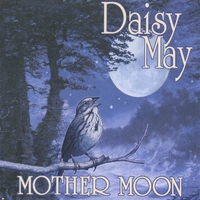 Daisy May [Mother Moon]
Now those that follow this blog might claim bias knowing my preference for buying local and supporting local. But true
readers
of the blog will also note that I very much appreciate quality. In everything. Food, products, relationships, people, etc.. I, for instance, don't want people to only buy my greens in the winter because they are local but also because they are the best greens to be found. So music is no exception and in fact very important to me. The plain truth of the matter is that this album is just awesome. Daisy May has simply matured so much as a singer, songwriter, musician, and artist (as well as the whole Earthwork Music supporting cast) that this album can compete and, in my opinion, surpass albums coming out from big names and big places all over. When you consider the competition the album was up against in 2007 I hope you will consider this sentiment to have some weight and experience her artistry for yourself. Tell you local library to buy a copy.
Preview some of her songs and more about Daisy May at her website:
DaisyMayMusic.com
Buy this album (and others) directly from her music label:
Earthwork Music
Or preview and buy her album (and others) from the indie supportive:
CD Baby